"As the fastest growing city in America, Seattle is undergoing record growth and development." Mayor Ed Murray
Since the nationwide housing collapse in the mid 1990's through the 2000's; the economy has become more stable and we've seen significant growth, and the construction industry and real estate and mortgage industries are recovering.
The City of Seattle and surrounding communities, as I'm sure you've probably heard and read about from numerous sources, sees thousands of additional residents moving into the area each year, raising demand and creating exceptionally high costs for new home purchases and barely attainable options for rental units. You may have seen the article in the Puget Sound Business Journal on the home in 1,100 square foot home in Ballard that sold for $717,000. According to a report by GeekWire this past March, Seattle ranks No. 10 when it comes to the median price of a one-bedroom apartment at $1,600.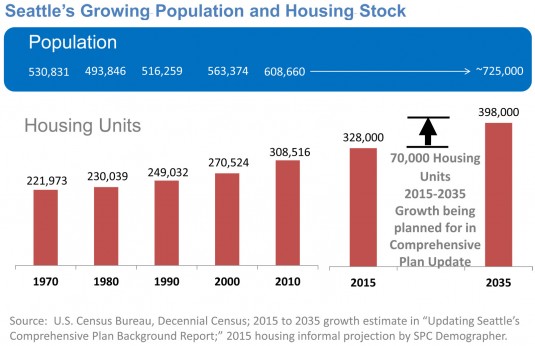 In 2014, population was estimated by City of Seattle staff to be 640,500. (The 2010 population count of 608,660 was 8% higher than reported in 2000.) King County forecasts the county's population will grow from about 1.9 million persons in 2010 to about 2.4 million persons in 2040. City growth targets estimate 47,000 additional households between 2005 and 2024 with 29,330 net new housing units added from 2005 to 2012 (about 62 percent of the 2005-2024 target).
What does all this mean for live-ability in the City? It means the building landscape will change significantly. Single-family dwellings in dense, populated neighborhoods will be transforming into new styles of living to meet demand. We've already seen a rise in multi-family housing, and can't walk a few blocks without seeing construction cranes. There are high rise apartments and townhomes, micro-housing (or tiny) efficiency apartments, boarding house type developments. Then there's the trend for co-housing in outlying areas (e.g. Vashon Island); communities of private homes with shared facilities. Multi-family housing is booming!
In fall of last year, to address these housing concerns, the Seattle City Council passed Resolu

tion 31546 creating The Housing Affordability and Livability Committee (HALA). Asked to identify ways to deliver housing affordability across all income levels, the Committee will look at every piece of the housing puzzle, including incentive zoning rules, the potential for linkage and impact fees, the impact of accessory dwelling units (ADU's), new efforts to preserve existing affordable housing, opportunities to stretch our valuable Housing Levy dollars using public-private partnerships, and more. After public meetings over a period of several months, HALA has been tasked with evaluating potential strategies and delivering a set of recommendations. As of this writing the committee has presented some recommendations and solutions to the Council and action is expected soon.
Smart Growth Seattle, a local advocacy group, is also becoming prominent in their collaboration with home builders and community stakeholders to help government adopt codes that are appropriate for meeting housing demand and preserving neighborhood character and managing growth.
More and more residents are looking for housing alternatives, and renovating homes is becoming ever more popular. Millennials, young single professionals, parents with young children and boomers with aging parents are seeking new solutions for changing lifestyles, additional income, work-at-home options and intergenerational family living.  Those in the architecture, construction, engineer and contractor professions are seeing increased demand for multi-family dwellings; duplexes, triplexes, mother-in law wings; single person apartment add-ons and backyard cottages.
Live-work-play, continues to work with clients to meet their personal needs in this ever-growing community.  In my next blog post, "Seattle – Watch Us Grow – Part II," I'll talk about the different options and what type of structures or additions you should consider for your property including Accessory Dwelling Unit (ADU) and Detached Accessory Dwelling Unit (DADU.) We'll talk about zoning, permitting, design and building issues. And you can be sure when the news hits our desk from the Seattle City Council chambers we'll keep you informed.
Call or e-mail live-work-play now to discuss your new design or remodeling project; 206.726.0077 or info@live-work-play.net.